For this month and this newsletter:
Focus on Dão with a special discount until the 15th
Beaujolais Nouveau 16th
Passevinho 12th and 13th
Salta-Muros (Beira Interior): new Portuguese wine producer
La Distesa (Marche): new Italian wine producer on our portfolio
New arrivals from:
Adega Reg. De Colares
Quinta da Serradinha (Leiria, Lisboa)
Miguel Barroso Louro (Alentejo)
Quinta da Pellada & Os Goliardos (Dão)
Lucindo Todo Bom (Douro)
Quinta do Monte Xisto (Douro)
Quinta do Romeu (Douro)
Menina d'Uva (Planalto Mirandês)
Aphros (Vinho Verde)
Bodega Cinco Leguas (Madrid)
La Cadette (Beaujolais)
Domaine Chamonard (Beaujolais)
Domaine Joubert (Beaujolais)
Alex Foillard (Beaujolais)
ORDERS
Download the file above.
Fill it in as you like, including the header.
Save the document under the name "Os Goliardos_your name".
Send it to encomendas.goliardos@gmail.com
Indicate whether you want to pick it up or have it delivered.
In the body of the email, leave us your VAT number if you want it included on the invoice.
Wait for our confirmation of availability.
DELIVERIES IN LISBON
Wednesday and Thursday (may be adjusted in the case of public holidays or special events) Within Lisbon: Free delivery over 60€.
WE SHIP TO OTHER LOCATIONS
We ship to mainland Portugal, outside the city of Lisbon, free of charge above 300€. For other countries, we will provide a quote on a case-by-case basis.
ORDERING
For deliveries in Lisbon, orders must be placed 24 hours in advance of delivery (taking into account the delivery days for the city of Lisbon). For deliveries to other parts of the country, you should expect to receive your order within 3 days of the order being confirmed and payment being made.
PAYMENT
Os Goliardos Millenium BCP
IBAN PT50 0033 0000 4569 0117 969 05 – BCOMPTPL
MBWAY
910200807, indicating the invoice number.
Theme in focus: Dão

Autumn is finally here. The rain that accompanies it, the cold that warms us up at home and in a welcome return we revisit the Dão, the origin of Uvelhas Negras and Pelludas (hairy) donkeys, the freshness and sapidity of the granite of the central Serras do Centro and the humid depth of the clay of Penalva. From 1 to 15th, we'll be sharing the historic mountain wine region with dozens of white and red varieties, from whites to tanneries to clarets, pallets and more or less light reds. During these two weeks, all Dão wines will be discounted by 5% for orders of up to 150 euros and 10% for orders of more than 150 euros.
The producers
João Tavares de Pina
António Madeira
Beiorte
Quinta da Pellada – Coleção Uvelhas Negras
The region
A region with a long tradition of table wines, typically blends of grape varieties, both white and red, in a continental area at altitude, surrounded by mountains (Estrela, Caramulo, Buçaco, Montemuro) that form a barrier to the Atlantic influence, with cold winters, summers with hot days but cool nights that allow the freshness of the wines to be maintained. High rainfall in spring and fall, but with filtering soils that are essentially granite, with some areas of schist. Dão produces fresh, floral whites and elegant, full but balanced, fragrant, tannic, lively and fresh reds, with intense floral aromas and good ageing capacity. Although it has suffered from the emergence of the Douro and Alentejo regions, the Dão remains a historic region with great recognition for the quality and variety of its classic, balanced wines.
New producer: Salta Muros
Catarina and David like to jump between vineyards in Miuzela, an area favourable to this regenerative activity with its vineyards on different levels delimited by walls. Salta Muros wines are born in this Beira Alta village located 800 metres above sea level, on the banks of the River Côa, in the municipality of Almeida, Guarda district, where David has his loose childhood memories and where Catarina also became a pure-bred Miuzela, living here on her own for a year, gaining a closeness and affection for this isolated area that contrasts with the urban frenzy. The soils are granite/sandy and the old vines, over 50 years old, are made up of various grape varieties, especially Rufete, Bastardo, Marufo (red), Malvasia and Rabo de Ovelha (white). On a cool plateau, several vineyards are recovering in small fragmented plots in the middle of woodland and pasture areas. It's a region with a wide temperature range and a late vegetative cycle due to the cold winter temperatures, which delay the budbreak of the plants. These climatic conditions give the wines a digestive, airy style that goes well with their bouncy name. The artisanal and organic viticulture and the rigour of the work in the producers' traditional stone cellar make it possible to fully appreciate the fruits of this land, which is gaining visibility and vitality as the young vignerons roll up their sleeves.
Novo produtor: La Distesa
Valeria Bochi and Corrado Dottori left Milan in 1999 to take up the winemaking tradition of their paternal family in the enchanted nest of San Michele, rich in biodiversity, with various species of trees, including olive trees, converting the estate to organic farming and choosing more natural forms of winemaking, in tune with the rhythm of expression of each cultivated plot. The 8.5 hectares of vineyards are planted in one of Cupramontana's historic crus, called San Michele, which has a history of over 1000 years of cultivation, started by the Camaldolesi monks next to the San Michele Church. The limestone marl soils originating from the lower Pliocene (5 billion years ago), combined with the good ventilation provided by the altitude of between 300 and 500 metres on the slopes at the foot of the Apennines and the maritime influence of the Adriatic create good ripening conditions, without excess humidity to give structured and powerful wines in hot weather years and more salty and marine in cooler years. Verdicchio is the main grape variety that finds its best expression in this terroir. It is accompanied by Trebbiano, Malvasia and Pecorino in white and Sangiovese, Montepulciano and Cabernet-Sauvignon in red. For them, wine is a vehicle for expressing the territory, peasant solidarity and the feelings that inhabit them during a year of cultivation. Involved in actions to support migrants and boost the collective promotion of the region, wine becomes a tool for unity and nurturing the dream of a more harmonious society.
PASSEVINHO: November 12th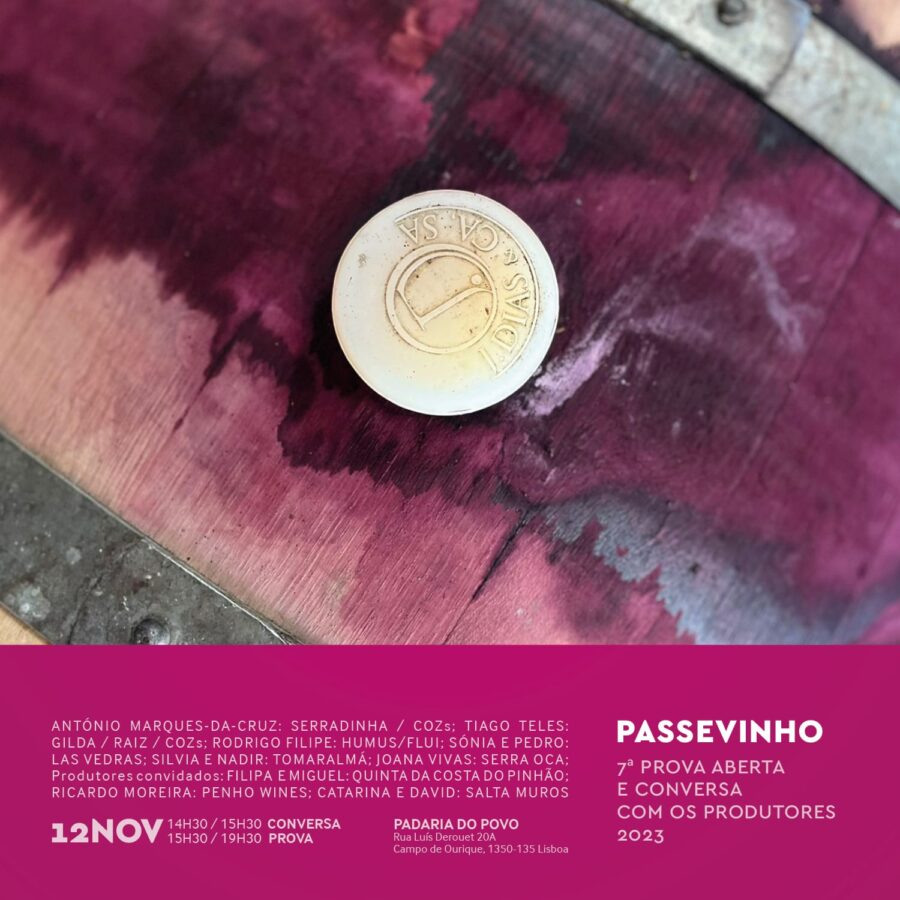 7th Open tasting with the producers
Passevinho is an open tasting organized by small independent producers who share a collective and humanist approach, with a joint reflection on the landscape and respect for the land.
1. TALK "ROAD TO UTOPIA": Sunday 12th, 2:30pm – 3:30pm at Padaria do Povo (Rua Luís Derouet 20A, Campo de Ourique, 1350-135 Lisboa).
In conversation with Ricardo Paes Mamede and Nadir Bensmail
A conversation and reflection on the need to build alternative ways of relating to nature, the territory, people and consumption.
2. OPEN TASTING: Sunday 12th, 3:30pm – 7:30pm at Padaria do Povo.
Resident producers:
Tiago Teles
COZ's
Quinta da Serradinha
Humus – Flui
Las Vedras
Tomaralmá
Serra Oca
Invited producers:
Quinta da Costa do Pinhão
Penhó Wines
Salta-Muros
BEAUJOLAIS NOUVEAU: November 16th

Every year, on the same day, the Beaujolais Nouveau wine comes out all over the world. It's the wine of the year, fresh from the vats. It hasn't even had time to dry off with a towel. It comes from the Beaujolais region in the east of France. A wine to celebrate the end of the harvest, to celebrate and drink in the tone of a great wine festival. 50 million bottles in over 150 countries open Beaujolais Nouveau on the same day. The whole world toasting the wine of the same region at the same time.

A bit of history, while you're still lucid: In 1951, the Journal Officiel stipulated that French wines of controlled origin could only be marketed from December 15th of the year of the harvest. In every law there is an exception….therefore, this law has as an exception the appellation "Beaujolais nouveau". mmmm….an exclusivity that made history. For 15 years the date was variable. From 1967, the launch of Beaujolais Nouveau was fixed for November 15th, and finally, from 1985, it was stipulated that the new wine festival would be held on the third Thursday of November. Thursday is a great day to start the weekend early. Initially, the celebration of Beaujolais was clearly associated with French-speaking communities. Since the 1980s, the practice has been internationalized, first with European countries, then becoming a practice in Australia and Asia in general. Currently, Japan leads the way in terms of consumption of Beaujolais Noveau on the international market. Today, more than 50 million bottles are shipped in just a few hours. From the small villages in the Beaujolais region where this tradition is celebrated every year, it has become a tradition for the global village.
What are the features of Beaujolais Nouveau?
Beaujolais is a wine made from the Gamay grape variety, an early variety that ripens quickly and produces small, extremely fruity grapes. Gamay was practically extinct in Burgundy to give precedence to Pinot Noir, but it's great drunk as a wine fresh from the vats.
A traditional vinification called carbonic maceration, with the aim of bringing out the perfume of the fruit: the bunches are placed whole in the vats and then carbon dioxide is injected to remove all the oxygen. With the berry closed and intact, fermentation takes place intracellularly, usually giving off aromas of banana and candy. Considered a joke wine by aficionados, Beaujolais is effectively a wine with no pretensions to be kept or to win 100 Parker points. It's a wine to celebrate and welcome the 2023 wine. It's not for spending two hours sniffing it and noting down aromas of Swiss blueberry candy and Algerian Tlemcen flowers. It's for toasting and drinking!!!!
But Beaujolais is not only about Nouveau!!!
Beaujolais has its crus, such as Morgon and Fleurie, fine wines with ageing capacity. All from exceptional producers in a natural line, showing that Beaujolais really is a great region.
May Bacchus be with you!