And here are proposals of theme wine boxes to discover a region, a variety, a country, a style! Always with genuine wines, no artifices, from artisanal producers. In an other way…a selection of good wines! : )
Beaujolais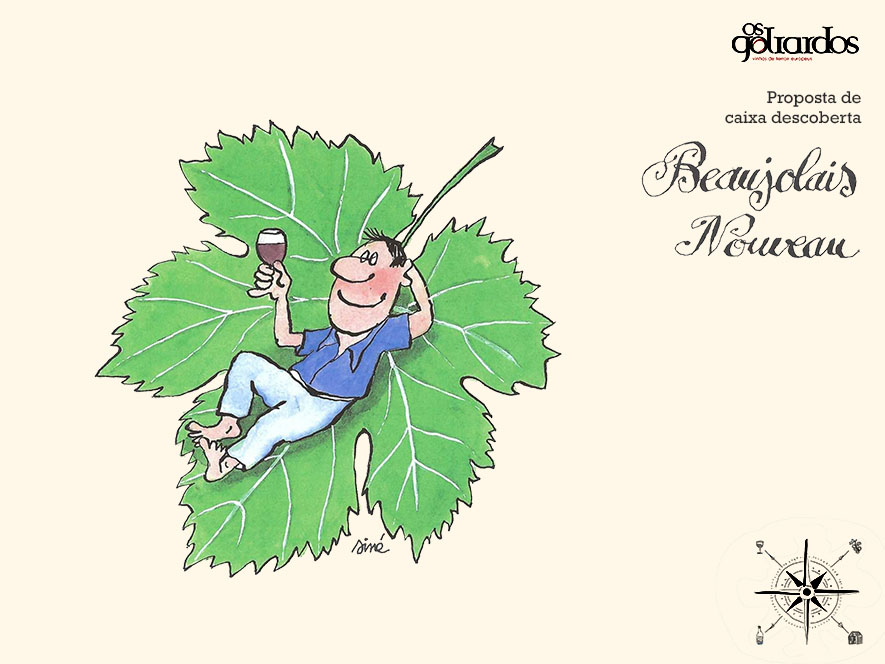 T JP Thévenet Cuvée Traditión 2016 13,50€
T Chateau Cambon La Cuvée du Chat 2019 14,25 €
T Alex Foillard Brouilly 2017 24,00 €
T Domaine Chamonard Morgon 2018 21,00 €
T JP Brun Fleurie 2015 17,50 €
T La Cadette Juliénas 2018 17,75 €
Total 108,00 €, with Covinho & Beaujolais discount 100 €
Histórias de Outono


B João Tavares de Pina, Torre de Tavares Encruzado 2018 17,00€
B JL Tribouley, GG 2017 16,25 €
T Quinta da Muradella, Candea 2016 10,50 €
T Tiago Teles, Gilda 2012 17,25 €
T Alex Foillard, Brouilly 2017 24,00 €
T Cascina Corte, Dogliani San Luigi 2019 14,75 €
Total 98,50 €, with Covinho discount 93,57 €
Tour de França em 6 castas tintas


Gamay, Beaujolais, Domaine Chamonard, Fleurie La Madone 2018 21,25 €
Cabernet Franc, Loire, Baudry Bernard, Les Grezeaux 2017 17,50 €
Pineau d'aunis, Loire, Belliviere, Rouge gorge 2018 22,75 €
Pinot noir, Bourgogne, Clos des Vignes du Mayne, Mâcon Rouge 2017 21,75 €
Syrah, Rhône, Texier Eric, St Julien en St Alban, Vieille Serine 2014 24 €
Trousseau, Jura, Butin Philippe, Côtes du Jura Trousseau 2015 21,75 €
Total 129,00 €, with Covinho discount 122,55 €
Volta a Portugal 1


B Miguel Barroso Louro, Apelido 2019 7,50€
B Lucinda Todo Bom, Fraga Alta Branco 2016 9,00 €
T COZ's, Castelão 2019 11,75 €
T Tiago Teles, Raiz tinto 2019 12,25 €
T João Tavares de Pina, Tretas 2019 9,75 €
T Quinta do Romeu, Moínho do Gato 2019 7,75 €
Total 58,00 €, with Covinho discount 55,10 €
Volta a Portugal 2


B Dão António Madeira Branco 17/18  13,25 €
B Lisboa Encosta da Quinta Humus branco 2018  14,25 €
T Lisboa COZ's Castelão vm 2019  11,75 €
T Bairrada Quinta da Vacariça Baga 2010 13,00 €
T Dão João Tavares de Pina Terras de Tavares 2002  17,00 €
T Douro Mateus Nicolau de Almeida Trans Douro Express Baixo Corgo 2019  11,75 €
Total 81 €, with Covinho discount 76,95 €
Madrid con La Maldición


B Bodegas Cinco Leguas, La Maldicion Malvar, 2019 9,25 €
B Bernabeleva, Manchomuelas, 2016 17,00 €
T Bernabeleva, Navaherreros, 2017 13,75 €
T Marc Isart La Maldicion, 2019 7,25 €
T Marc Isart La Maldicion, Gleba 2015 11,00 €
T Marañones, Marañones, 2015 17,00 €
Total 75,25 €, with Covinho discount 71,49 €
Volta luso-galega


B Lisboa Encosta da Quinta, Humus branco 2018  14,25 €
B PT Dão, António Madeira, A Liberdade 2019 20,50 €
B ES, Galiza, Augalevada, Mercenario 2018 14,50 €
T PT Douro, Mateus Nicolau de Almeida, Trans Douro Express Baixo Corgo 2019 11,75 €
T PT Lisboa, Quinta da Serradinha, tinto 2016 12,25 €
T ES, Galiza, Pablo Soldavini, Saiñas O Boliño 2018 17,25 €
Total 90,50 €, with Covinho discount 85,98 €
Imunidade europeia


ESP DT Mosel, Melsheimer, Rurale 2018 18,75 €
B IT Sicilia, Barraco Nino, Catarratto 2018 20,75 €
B AU Burgenland, Schiefer, Grüner Purbach 2016 15,25 €
T PT Lisboa, Quinta da Serradinha, Quinta da Serradinha 2016 12,25 €
T FR Loire, MS Bouchet Fleur Bleue Grolleau 2016 14,50 €
T GR Cephalonia, Sclavos Synodos 2016 18,50 €
Total 100,00 €, with Covinho discount 95,00 €
Portugal profundo


B Douro, Mateus Nicolau de Almeida, Eremitas Antão do Deserto 2018 17,75 €
B Dão, António Madeira, A Liberdade 2019 20,50 €
T Dão, Qta da Pellada e Os Goliardos, Achada VO 2016 14,50 €
T Alentejo, Quinta do Mouro, Casa dos Zagalos 2015 13,50 €
T Dão, João Tavares de Pina, Terras de Tavares 2002 17,00 €
T Douro, Quinta do Romeu, Colheita 2018 8,75 €
Total 92,00 €, with Covinho discount 87,40 €
O sal de Portugal


B Lisboa, Viúva Gomes, Viúva Gomes 2018 22,25 €
B Lisboa, COZ's, Pop 2019 12,25 €
B Vinho Verde, Quinta da Palmirinha, Blend 2019 12,00 €
T Lisboa, Encosta da Quinta, Humus Deriva 2014 15,00 €
T Lisboa, Adega Reg. De Colares, Arenae Ramisco 50 cl 2010 19,25 €
T Vinho Verde, Aphros, Vinhão 2018 13,00 €
Total 93,75€ €, with Covinho discount 89,06 €
Passatempo Hedonista


B Galiza, Quinta da Muradella, Alanda 2018 17,75 €
B Franconia, Stefan Vetter, Longue Tongue 2018 14,75 €
T Lisboa , Encosta da Quinta, Humus Deriva 2014 15,00 €
T Rioja, Tentenublo, Xerico 2017 15,25 €
T Piemonte, Cascina delle rose, Barbera 2017 18,00 €
T Rhône, Eric Texier, Saint Julien en St Alban Vieille Serine 2014 22,00 €
Total 102,75 €, with Covinho discount 97,61 €
Tour d'Alsácia


B Kreydenweiss, La Fontaine aux enfants 2017 21,25 €
B Frick, Chasselas 2018 16,25 €
B Rieffel, Pinot Blanc Granite 2018 12,50 €
T Ostertag, Pinot Noir Les Jardins 2018 21,25 €
T Frick, Pinot Noir Stein 2018 23,25 €
VT Spielmann, Blosenberg Pinot gris meio-seco 2010 27,75 €
Total 125,25 €, with Covinho discount 118,99 €
Avanti Itália


E Piemonte, Bera, Moscato d'Asti 2018 16,25 €
B Friuli, Skerk, Vitovska 2017 25 €
B Sicilia, Barraco, Catarratto 2018 20,75 €
T Campania, Cantina Giardino, Le Fole 2016 17,50 €
T Piemonte, Cascina Corte, Vigna Pirochetta 2013 17,50 €
T Toscana, Fonterenza, Rosso di Montalcino 2017 29 €
Total 126,00 €, with Covinho discount 119,70 €
HOW TO ORDER 
Send us an e-mail with your order to encomendas.goliardos@gmail.com. Please indicate your name, phone contact and address (in case you want delivery) or if you prefer to pick it your order at our warehouse in Campolide; indicate if you want your Portuguese NIF on the invoice.
We deliver in Lisbon for free for orders superior to 60 euros.
For other regions outside of Lisbon, in Portugal and Spain, we send the wines with the following transport prices:
until 6 bottles: 10€
7-12 bottles: 14€
13-18 bottles: 18€
More than 19 bottles: 20€
For other countries, we will present a quote.
Timetable for order pick-up:
Address: Rua General Taborda 91, Lisbon (Campolide)
Monday: 17h to 20h
Tuesday: closed
Wednesday: closed
Thursday: 17h to 20h
Friday: 17h to 20h
Weekend: closed
Deliveries:
Tuesdays and Thursdays.
Payment by transfer or MBWay (ask for number when ordering).
Preferably, delivery will be made at the building's door.
We hope someone will be home… hehehe
Contacts:
www.osgoliardos.com
Adress: Rua General Taborda, nº91, Lisboa (Campolide)
Tel stock place: (+)351 213462156
João Mendes: +351 910970584, Miguel Vale +351 939445745