And here are proposals of theme wine boxes to discover a region, a variety, a country, a style! Always with genuine wines, no artifices, from artisanal producers. In an other way…a selection of good wines! : )
Pandemónio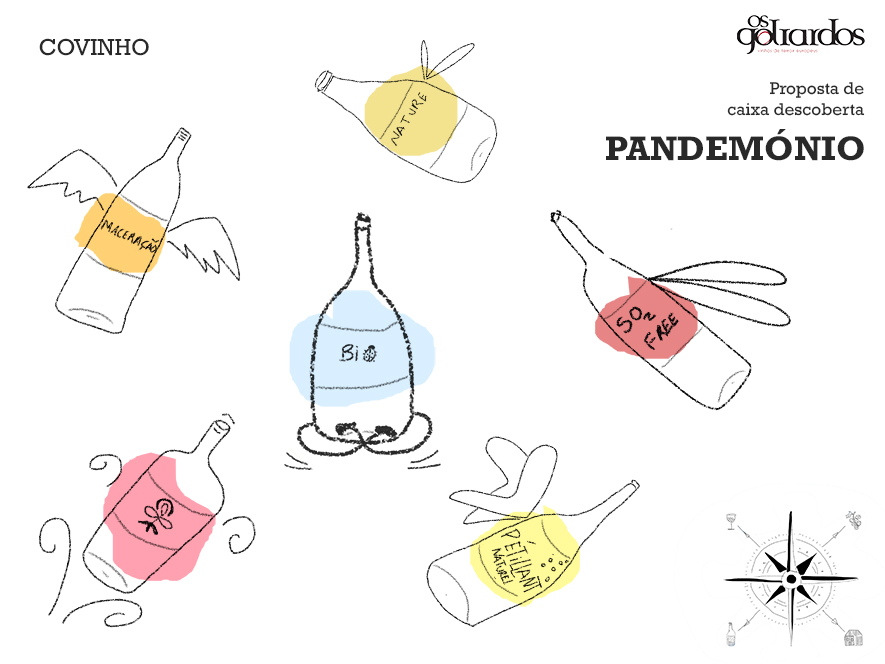 B Galicia Augalevada, Iago Garrido Mercenário Eiravedra 2019 15,25 €
B Styria Werlitsch Vom Opok Welschriesling 2019 22,00 €
B Campania Cantina Giardino Paski 2019 21,25 €
T Lisboa Encosta da Quinta Humus Deriva 2014 15,00 €
T Lisboa, Adega Reg. De Colares, Arenae Ramisco 50 cl 2012 23,50 €
E Mosel Melsheimer Rurale 2019 17,25 €
Total 114,25 €, with Covinho discount 108,54 €
Pepitas


B Bourgogne Henri Germain Bourgogne Blanc 2018 30,00 €
B Friuli Skerk Vitovska 2018 27,25 €
T Lisboa Quinta da Serradinha Vinhas Velhas 2015 28,75 €
T Loire La Chevalerie Bretêche 2015 20,25 €
T Toscana Le Boncie Le Trame 2018 38,00 €
G Jerez Hidalgo La Panesa 39,50 €
Total 183,75 €, with Covinho discount 174,56 €
Portugal Natural Branco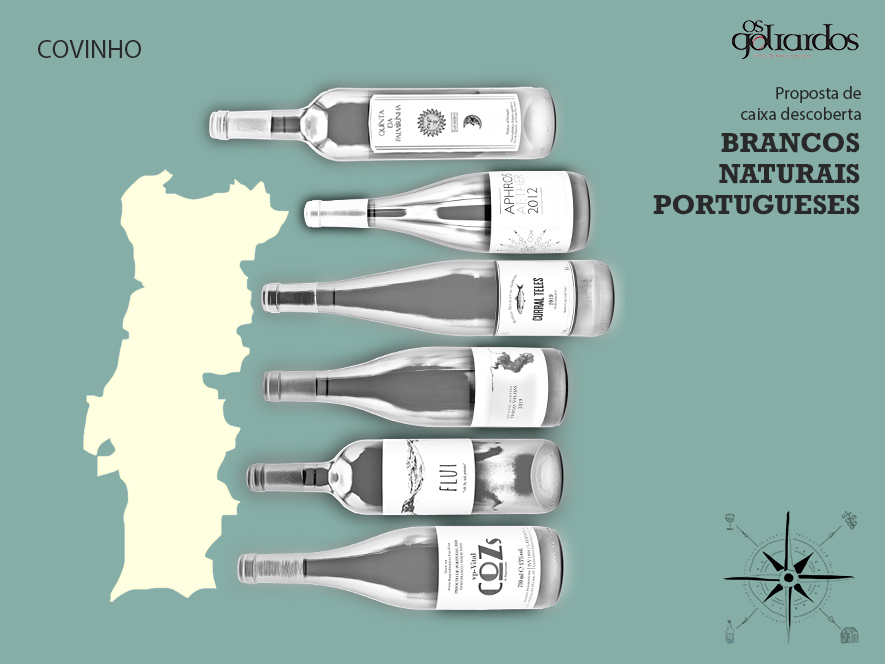 B Vinho Verde Quinta da Palmirinha Loureiro 2020  12,00 €
B Vinho Verde Aphros Aether 2012  13,25 €
B Douro MNA Curral Teles Lambda 2019 20,25 €
B Dão António Madeira Vinhas Velhas branco 2019 23,75€
B Lisboa COZ's Vp Vital 2019 16,00€
B Lisboa Flui branco 2019 13,25 €
Total 98,50 €, with Covinho discount 93,58 €
Portugal Natural Tinto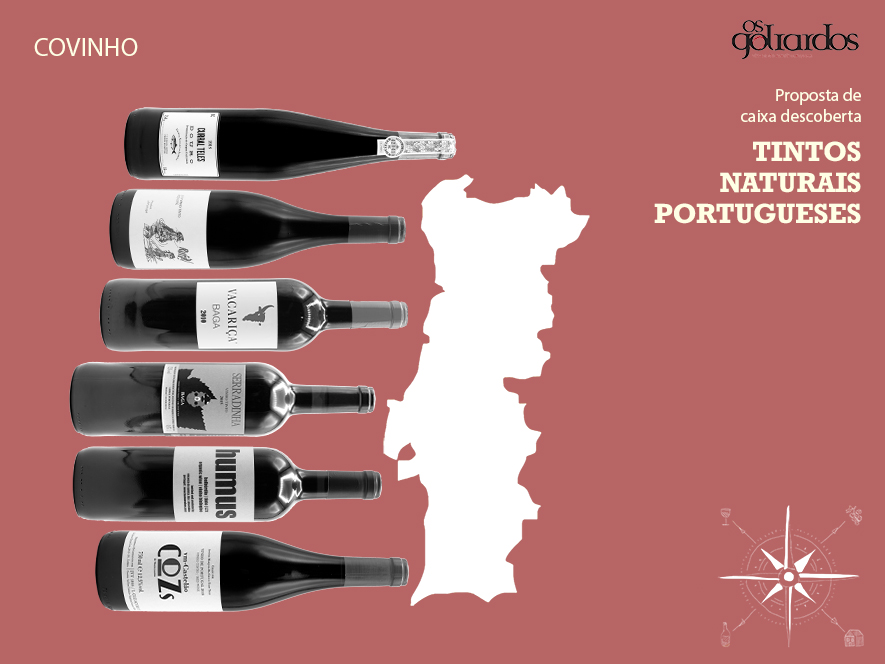 B Douro Mateus Nicolau de Almeida Curral Teles Alfa 2019  20,25 €
B Dão João Tavares de Pina Rufia tinto 2019  12,00 €
B Bairrada Quinta da Vacariça Baga 2010  17,00 €
B Lisboa Quinta da Serradinha Baga 2015 23,00 €
B Lisboa Encosta da Quinta Humus Balbúrdia  12,25 €
B Lisboa COZ's Vm Castelão 2018 14,75 €
Total 99,25 €, with Covinho discount 94,29 €
Riesling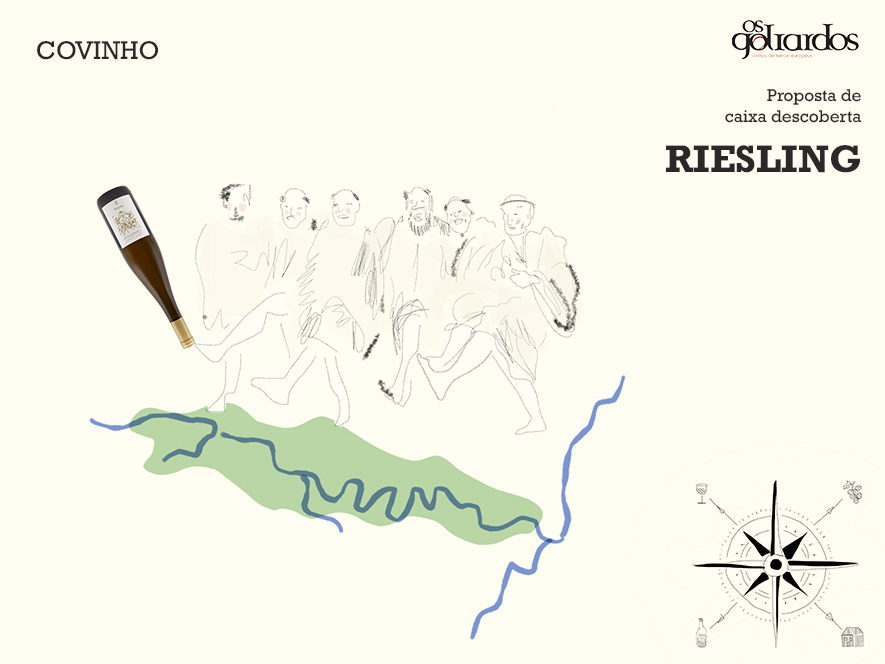 B Alsace Kreydenweiss Riesling Clos Rebberg 2016 24,25 €
B Alsace Geschickt Riesling 18/19 14,25€
B Alsace Riefel Riesling Vieilles Vignes 2018 15,25 €
B Alsace Ostertag Riesling Les Jardins 2018 19,00 €
B Mosel Melsheimer Reiler Goldlay Riesling 2016 16,25 €
B Mosel Melsheimer Vom Roten Schiefer 2015 18,50 €
Total 107,50 €, with Covinho discount 102,13 €
Piemonte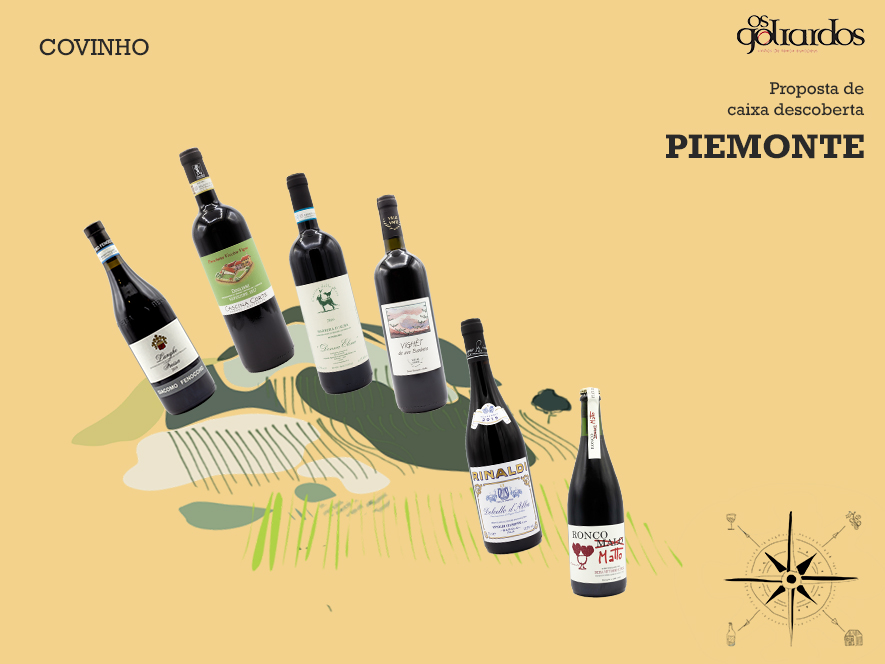 T Fenocchio Langhe Freisa 2019 16,25 €
T Cascina Corte Pirochetta 2017 18,50 €
T Cascina Delle Rose Barbera d'Alba Superiore Donna Elena 2018 24,00 €
T Giuseppe Rinaldi Dolcetto 2018 20,00 €
T Valli Unite Vighet 2010 26,00 €
T Bera Ronco Matto 19,50 €
Total 124,25 €, with Covinho discount 118,04 €
Volta a Portugal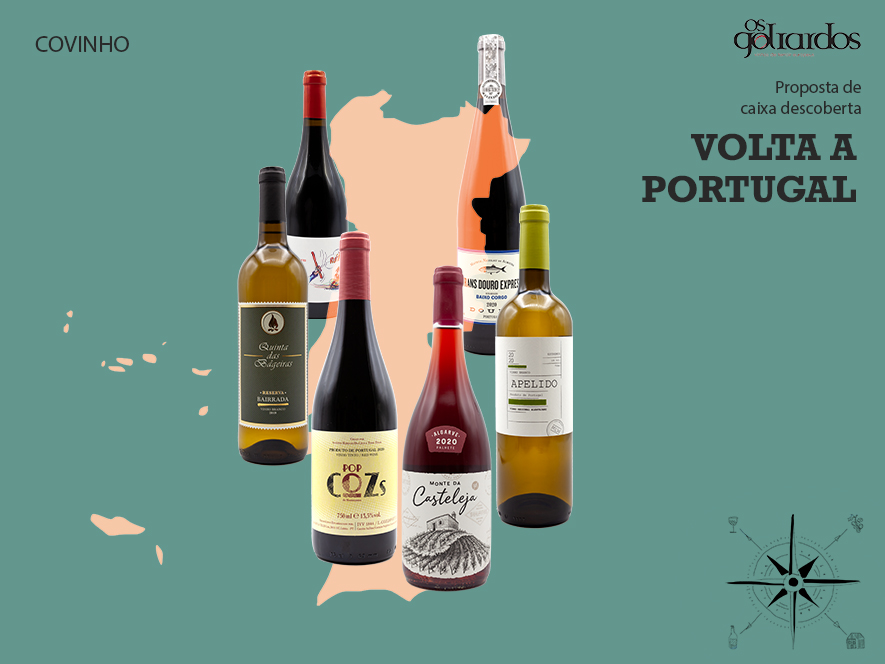 B Alentejo Miguel Barroso Louro Apelido branco 2020 7,7 5 €
B Bairrada Quinta das Bágeiras Reserva branco 2019 7,75 €
T Algarve Monte da Casteleja Palhete 2020 13,25 €
T Lisboa COZ's POP tinto 2020 13,25 €
T Dão João Tavares de Pina Rufia Mencia 2018 11,00 €
T Douro MNA Trans Douro Express Douro Superior 2020 11,75 €
Total 64,75 €, with Covinho discount 61,51 €
HOW TO ORDER 
Send us an e-mail with your order to encomendas.goliardos@gmail.com. Please indicate your name, phone contact and address (in case you want delivery) or if you prefer to pick your order up at our warehouse in Campolide; indicate if you want your Portuguese NIF on the invoice.
Wait for payment instructions and send proof after doing so.
Free delivery in Lisbon for orders above 50 euros; if below, we charge 5 euros for the service.
For other regions outside of Lisbon, in Portugal and Spain, we send the wines with the following transport prices:
until 6 bottles: 10€
7-12 bottles: 14€
13-18 bottles: 18€
More than 19 bottles: 20€
For other countries, we will present a quote.
Timetable for order pick-up:
Address: Rua General Taborda 91, Lisbon (Campolide)
Monday: 11h to 18h
Tuesday: 11h to 18h
Wednesday: closed
Thursday: 11h to 18h
Friday: 11h to 18h
Weekend: closed
Deliveries:
Tuesdays and Thursdays.
Payment by transfer or MBWay (ask for number when ordering).
Preferably, delivery will be made at the building's door.
We hope someone will be home… hehehe
Contacts:
www.osgoliardos.com
Adress: Rua General Taborda, nº91, Lisboa (Campolide)
Tel stock place: (+)351 213462156
João Mendes: +351 910970584, Miguel Vale +351 939445745