We present you our traditional Goliardic Christmas crib, this year with the anti Covid barrier gestures, and we are waiting for you in our cave with special Christmas schedules so that authentic wine may save this bizarre Christmas.
We send the updated wine list as an excel file to prepare your order, and below the new arrivals, as well as opening schedules and deliveries in Lisbon in this final period of the year.
A toast to all those who share the Dionysian utopia! We wish you a merry Christmas and a happy new year, covid free, full of poetry and virtue.
Saúde!
Special schedules of our stockplace at Christmas time
Until Christmas
Adress: Rua General Taborda 91, Campolide, Lisboa, Portugal
Opening hours of the garage at the end of the year Until Christmas
Weekdays until the 23rd, from 2 pm to 8 pm
24th from 10am to 2 pm
19th of Dec from 10 am to 1 pm
Between Christmas and New Year
From 28th to 30th Dec from 2 pm to 8 pm
31st from 10 am to 2 pm
How to make your order?
Download the order file here Lista Os Goliardos Dez 2020_para encomenda_site
Fullfill it and save it as "Os Goliardos_your name"
Send it to encomendas.goliardos@gmail.com
Indicate if you wish to pick.up or to be deliveres
In the mail, indicate your name, adress, phone
Wait until we confirm if everything is available
Pay by transfer to
BPI Goliardos
Nib: 0010 0000 3543 9950 001 22
Or by mbway to 968881530 or 962022242
Please send us an email indicating you have paid with proof of paiement.
We are now preparing your order
Delivieries
We deliver without extra costs in Lisbon from 60 euros of order. Otherwise 10 euros will be requested.
and we send!
To Portugal
until 6 bottles: 10€
7-12 bottles: 14€
13-18 bottles: 18€
From 19 bottles: 20€
Delivery days in Lisbon after the 21st of December
3ªf 22/12
4ªf 23/12
3ªf 29/12
4f 30/12
 
Just arrived!
CHAMPAGNE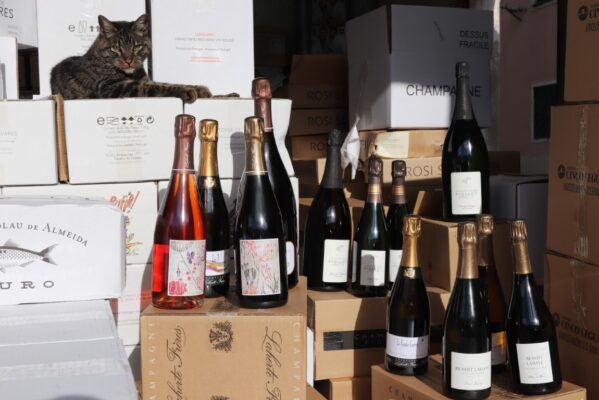 Champagne, Laherte, Blanc de Blancs Brut Nature
Champagne, Laherte, Rosé de Meunier Extra Brut
Champagne, Laherte, Blanc de Blancs Grand Cru
Champagne, Laherte, Vignes Autrefois (PM), 2015
Champagne, Piollot, Come des Tallants Pinot Noir
Champagne, Piollot, Colas Robin Pinot Blanc
Champagne, Piollot, Chevry Chardonnay, 2013
Champagne, Piollot, Mepetit Pinot Meunier
Champagne, Piollot, Come des Tallants Pinot Noir 1,5 l
Champagne, Piollot, Champs Rayes Chardonnay 1,5 l
PORTUGAL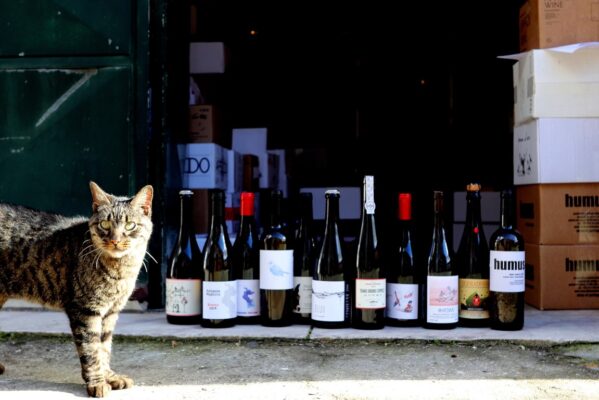 Lisboa, Flui Encosta da Quinta, B, Pet nat, 2019
Lisboa, Encosta da Quinta, B, Humus Branco… dos Pardais, 2017
Lisboa, Quinta da Serradinha, ES, Quinta da Serradinha Espumante, 2006
Lisboa, Vale da Capucha, B, Fossil Magnum 15l 2017
Lisboa, Vale da Capucha, Branco Magnum 1,5l 2016
Lisboa, Vale da Capucha, B, Arinto Magnum 1,5l 2017
Lisboa, Vale da Capucha, B, Gouveio Magnum 1,5l 2015
Lisboa, Vale da Capucha, B, Alvarinho Magnum 1,5l 2015
Lisboa, Vale da Capucha, Branco especial Solera
Lisboa, Vale da Capucha, Branco especial Solera Magnum 1,5l
Beira litoral, Tiago Teles, T, Raiz tinto, 2019
Dão, António Madeira, T, Tinto, 2018
Dão, Qta da Pellada & Os Goliardos, T, Pelludo da Pellada, 2017
Vinho Verde, Aphros, ES, Pet Nat rosé, 2019
Douro, Mateus Nicolau de Almeida, B, Curral Teles Delta (doce), 2017
Douro, Mateus Nicolau de Almeida, T, TransDouroExpress Baixo Corgo, 2019
Douro, Mateus Nicolau de Almeida, T, TransDouroExpress Cima Corgo, 2019
Douro, Mateus Nicolau de Almeida, T, TransDouroExpress Douro Superior, 2019
MADRID
Madrid, Bernabeleva, B, Navaherreros, 2018
Madrid, Bernabeleva, B, Navaherreros 6 anos crianza, 2013
Madrid, Bernabeleva, T, Arroyo del Tortolas, 2018
Madrid, Bernabeleva, T, Carril del Rey, 2018
Madrid, Bernabeleva, T, Viña Bonita, 2018
Madrid, Marc Isart – Bod. Cinco Leguas, B, Maldicion Malvar, 2019
ALSACE
Alsace, Ostertag, B, Riesling Les Jardins, 2018
Alsace, Ostertag, B, L'exutoire SVV 3, 2018
Alsace, Ostertag, B, Sylvaner rouge vinif. Blanc, 2018
Alsace, Ostertag, B, Dans la Fosse aux Loups, 2017
Alsace, Ostertag, B, L'exutoire ZS1, 2016
Alsace, Ostertag, B, L'exutoire ZRS2, 2017
Alsace, Ostertag, B, Riesling Le Berceau, 2018
Alsace, Ostertag, B, Riesling Muenchberg, 2018
Alsace, Rieffel, ES, Cremant, 2018
Alsace, Rieffel, B, Numero 6, 2018
Alsace, Rieffel, B, Riesling Vieilles Vignes, 2018
Alsace, Rieffel, B, Riesling Brandluft, 2017
Alsace, Rieffel, T, Pinot noir Nature, 2019
Alsace, Riss Catherine, B, Dessous de Table, 2019
Alsace, Riss Catherine, B, De Grès ou de force, 2018
Alsace, Riss Catherine, B, Piez de nez, 2019
Alsace, Riss Catherine, T, Libre comme l'air, 2019
Alsace, Riss Catherine, T, Empreinte, 2019
Alsace, Riss Catherine, T, T'as pas du schiste, 2018
Alsace, Riss Catherine, T, T'as pas du schiste 1,5 l, 2018
BOURGOGNE
Bourgogne, Dujac, T, Morey Saint-Denis, 2018
Bourgogne, Dujac, T, Gevrey Chambertin 1º cru Les Combottes, 2018
Bourgogne, Henri Germain, B, Bourgogne blanc, 2018
Bourgogne, Henri Germain, B, Meursault, 2018
RHÔNE
Rhône, Entrefaux, B, Domaine blanc, 2018
Rhône, Entrefaux, T, Domaine rouge, 2018
Rhône, Entrefaux, T, Les Pends, 2018
Rhône, Entrefaux, T, Les Machonnieres, 2016
Rhône, Gilles Guillaume, T, Les Peyrouses , 2018
Rhône, Gilles Guillaume, T, Cornas Nouvelle R, 2017
Rhône, Gilles Guillaume, T, Cornas Nouvelle R, 2018
Rhône, Gilles Guillaume, T, Cornas Chaillot, 2017
Rhône, Gilles Guillaume, T, Cornas Chaillot, 2018
Rhône, Gilles Guillaume, T, Les Peyrouses 1,5 l, 2017
Rhône, Gilles Guillaume, T, Les Peyrouses MAGNUM 1,5l, 2018
Rhône, Gonon Pierre, B, Saint-Joseph Les Oliviers, 2018
Rhône, Gonon Pierre, T, Saint-Joseph, 2018
Rhône, Gonon Pierre, T, Saint Joseph rouge 1,5 l, 2018
SUD-OUEST, PIRINÉUS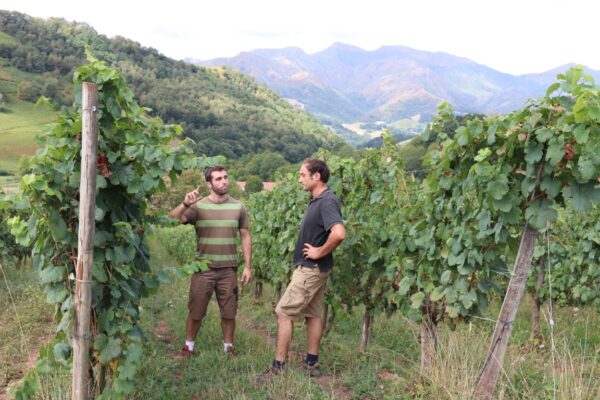 Sud-ouest Irouleguy, Arretxea, B, Hexoguri, 2019
Sud-ouest Irouleguy, Arretxea, B, Hexoguri, 2015
Sud-ouest Irouleguy, Arretxea, R, Rose, 2019
Sud-ouest Irouleguy, Arretxea, T, Tradition, 2017
Sud-ouest Irouleguy, Arretxea, T, Dolia, 2019
Sud-ouest Irouleguy, Arretxea, T, Haitza, 2015
Sud-ouest Irouleguy, Arretxea, T, Haitza, 2017
Sud-ouest Irouleguy, Arretxea, T, Haitza, 2014
Sud-ouest, Clos Thou, B, Delice de Thou Sec, 2018
Sud-ouest, Clos Thou, B, Cuvee Guilhouret, 2018
Sud-ouest, Clos Thou, VT, Cuvee Julie, 2017
Sud-ouest, Clos Thou, VT, Supreme de Thou, 2017
Sud-ouest, Clos Thou, VT, Supreme de Thou, 2014
PIEMONTE
Piemonte, Cerruti Ezio, B, Fol, 2018
Piemonte, Cerruti Ezio, B, Macerato, 2018
Piemonte, Rinaldi Giuseppe, T, Dolcetto d'Alba, 2019
Piemonte, Rinaldi Giuseppe, T, Rosae – Ruché, 2019
Piemonte, Rinaldi Giuseppe, T, Langhe Freisa, 2019
Piemonte, Rinaldi Giuseppe, T, Barbera d'Alba, 2019
Piemonte, Rinaldi Giuseppe, T, Langhe Nebbiolo, 2018
Piemonte, Roagna, T, Langhe rosso, 2015
Piemonte, Roagna, T, Barolo chinato
Piemonte, Roagna, T, Barbaresco Pajé, 2015
Piemonte, Roagna, T, Barolo La Pira, 2015
SICILIA
Sicilia, Barraco Nino, B, Zibibbo, 2019
Sicilia, Barraco Nino, B, Catarratto, 2019
Sicilia, Barraco Nino, T, Pignatello, 2016
BURGENLAND
Burgenland, Heinrich, B, Naked white, 2019
Burgenland, Heinrich, B, Chardonnay Leithaberg, 2016
Burgenland, Heinrich, B, Chardonnay Leithaberg, 2017
Burgenland, Heinrich, B, Neuburger Freyheit, 2017
Burgenland, Heinrich, B, Weisze Freyheit, 2017
Burgenland, Heinrich, B, Roter Freyheit, 2018
Burgenland, Heinrich, R, Naked Rosé, 2019
Burgenland, Heinrich, T, Naked red, 2017
Burgenland, Heinrich, T, Pinot noir, 2018
Burgenland, Heinrich, T, Blaufrankisch, 2017
Burgenland, Heinrich, T, Zweigelt, 2017
Burgenland, Heinrich, T, St Laurent, 2017
Burgenland, Heinrich, T, Naked red 1,5 l, 2017
Burgenland, Schuster Rosi, B, Aus Den Dorfern Gruner, 2019
Burgenland, Schuster Rosi, T, St Laurent, 2018
Burgenland, Schuster Rosi, T, Reserve, 2017
MOSEL
Mosel, Busch Clemens, B, Riesling Vom Roten Schiefer , 2015
Mosel, Busch Clemens, B, Riesling Von Blauen Schiefer , 2018
Mosel, Busch Clemens, B, Riesling Vom Grauen Schiefer 1,5 l, 2013
Mosel, Busch Clemens, B, Riesling Vom Grauen Schiefer 1,5 l, 2014
Mosel, Busch Clemens, B, Riesling Vom Roten Schiefer 1,5 l, 2014
Mosel, Melsheimer, B, Molun, 2018
Mosel, Melsheimer, B, Riesling Mullay Hofberg Sekt 1,5 l, 2014
SIDRA novo produtor!
Sud-ouest, Bordatto, O, Basandere, 2019
Sud-ouest, Bordatto, O, Basajun, 2018
Sud-ouest, Bordatto, O, Txalaparta, 2017