Vinho ao Vivo 2018, Festival Europeu do Terroir, 13 e 14 de Julho
Entrevistas realizadas por Nadir Bensmail d'Os Goliardos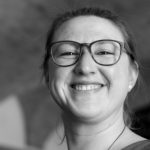 How live inside you your romantic, goethean name with the Superwoman girl you are?
Well…someone else already found the perfect words to this question…
Sing no more in mournful tones
Of the loneliness of night;
For 'tis made, ye beauteous ones,
For all social pleasures bright.
As of old to man a wife
As his better half was given,
So the night is half our life,
And the fairest under heaven.
How can ye enjoy the day,
Which obstructs our rapture's tide?
Let it waste itself away;
Worthless 'tis for aught beside.
But when in the darkling hours
From the lamp soft rays are glowing,
And from mouth to mouth sweet showers,
Now of jest, now love, are flowing,—
When the nimble, wanton boy,
Who so wildly spends his days,
Oft amid light sports with joy
O'er some trifling gift delays,—
When the nightingale is singing
Strains the lover holds so dear,
Though like sighs and wailings ringing
In the mournful captive's ear,—
With what heart-emotion bless'd
Do ye hearken to the bell,
Wont of safety and of rest
With twelve solemn strokes to tell!
Therefore in each heavy hour,
Let this precept fill your heart:
O'er each day will sorrow lour,
Rapture ev'ry night impart.
(Philine in Wilhelm Walters Lehrjahre. Goethe)
2 Heinrich dimension, biodynamical pratices and natural wines : how it works?
The agricultural course of 1924 took place in Gut Koberwitz –  a farm consisting of more than 1000 hectares. Biodynamics are right from the beginning thought to be healing practices for the whole agriculture, including small and big farms. So instead of enjoying the sunrise while dynamizing 501 only on one day, I can enjoy it a week…
The real problem of living, thinking and building a company in an anthroposophical way, is that economical, governmental and social structures are still based on contrary values and approaches.
3 If i say Leithaberg you answer what ?  I would answer…lime, schist, crisper, cherry trees, forest and having a chilled beer at the lake.