Vinho ao Vivo 2018, Festival Europeu do Terroir, 13 e 14 de Julho
Entrevistas realizadas por Nadir Bensmail d'Os Goliardos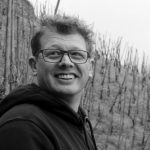 1. Your gravity center in the schiefer slopes of Mullay Hofberg?
(in general and after the Mexico-Germany)     Mullay-Hofberg is first of all a wonderful piece of land we (me and my family) are responsible for. When you think about this you'll recognize that a farmer is in a special position. He is personally able to make world a little bit better. Out of this we take a lot of our motivation to cultivate this steep slopes under almost alpine conditions. And seeing the results after 23 years of organic farming makes me smile every time I go to Mullay-Hofberg or even when I just talk about our vineyards. Today, during the worldcup we like to compare everything with football. But producing wine works exactly the opposite way. In wine time and slowness helps a lot. Organic growing shows long term effects and our wines get all the time they need to find their balance (even if fermentation takes years). In football fast moves, surprises  and speed are the key for success  – look at Mexico-Germany. The German team was one of the best for 10 years. Now it looks like it is time to say good bye. Organic farming needs minimum 10 years to show that nature has the better system and vines start there best time after 20 years of life, like football players, but vines get better and better for a lot of decades.
2. Sleeping in the slates waiting for the moon
How do you know that I do so from time to time? Together with a good friend , a few bottles of wine, sitting on a vineyard terrace in front of a fire, watching the river flow and just fell asleep whenever you feel like it.
3. Slow slow fermentation : are you the slow Mosel?    Short answer?  – Yes. … Don't try to follow without Riesling